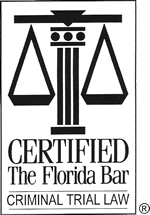 Established in 1982 by the Supreme Court of Florida. Board Certification provides consumers with the assurance in the selection of legal counsel. A lawyer who is Board Certified by The Florida Bar has demonstrated ability and experience in his or her field of practice and has earned a reputation for professionalism within the legal community.
The Board Certification program operates according to Supreme Court approved standards in 20 practice areas. A member of The Florida Bar who has earned this career achievement may list "Board Certified" or "Specialist" or "Expert" on business cards or letterhead, in legal directories or in the yellow pages of telephone directories.
The logo displayed on this page also signifies "Board Certification" and helps identify a lawyer's certification status. To find more information on each practice area and view a listing of board certified attorneys by specialization areas, please visit: http://www.flabar.org/certification
Board Certification not only helps consumers, it benefits the legal profession by requiring high standards, continuing legal education and professionalism in the practice of law. To become a certified specialist, a lawyer must:
Be an active member in good standing of The Florida Bar

Have practiced law for a minimum of 5 years

Pass a written examination in the specialty area

Complete approved legal education programs

demonstrate substantial experience in the specialty area

Be favorably evaluated as to ability and experience in the specialty field by judges and other lawyers

Exhibit outstanding character, ethics and a reputation for professionalism.
An attorney's certification remains valid for five years. To recertify, the attorney must generally meet the same requirements as for initial certification.